Before i start posting endless amounts of pictures i took over his birthday weekend, can we just take in that I've now got a 3 year old.. Like seriously, for over a week now, I've not had a 2 year old anymore, but a 3 year old. Some how it seems like he's not a baby anymore, 1 & 2 years old still seem like a baby to me, but nope, now I've got a stroppy 3 year old (god help me).
So we picked a quite laid back day for Finley's Birthday as we aren't sure Finley will appreciate a day out just yet and i want him to be old enough to understand all that so maybe next year. I am kinda glad we didn't plan anything anyway, trying to get him away from his toys just to go to the park (for some much needed fresh air) or for a Birthday meal was a task in itself.
Finley woke us up around 9am, not sure he was aware it was his birthday so he slept till normal time. I told him a few days leading up to his Birthday what it was about and he probably asked me a few times a day "Presents and cake soon mummy", i'm kinda glad he didn't know it was that day, didn't fancy a early wake up call.
I'm so happy Finley really understood the whole Birthday thing this year, as soon as he went downstairs and saw his presents he said "look mummy, birthday, presents" he opened all of his presents in half hour and was over the mood with everything he received. Last year it took him days to open presents, he just wasn't interested at all.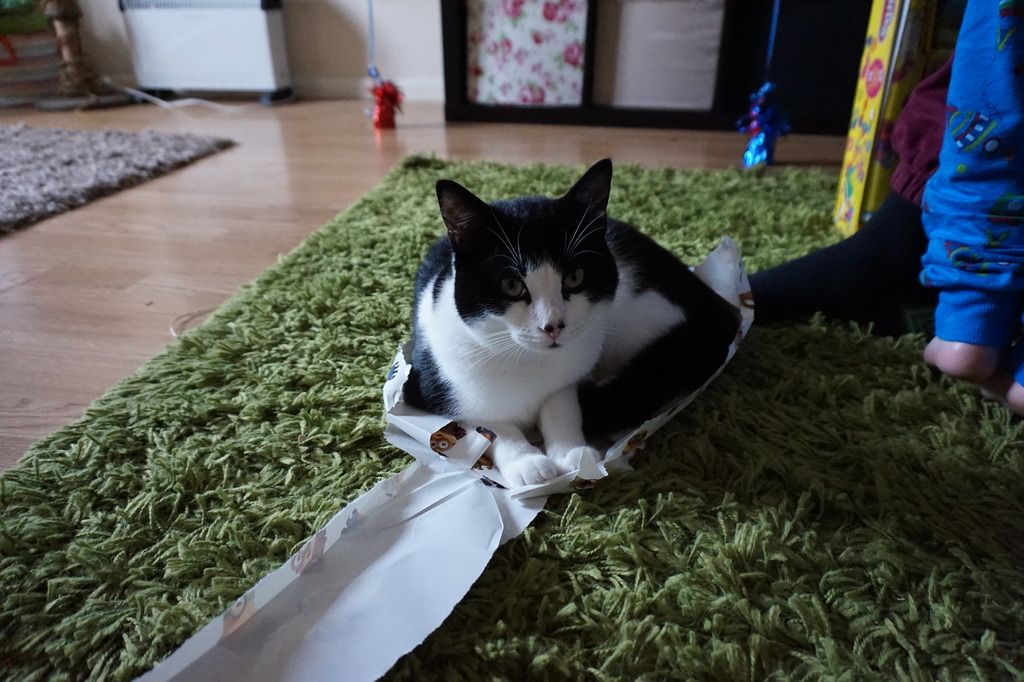 (Obviously Freddie couldn't miss out on the Birthday fun. Wrapping paper bed it is!)
Once Finley opened his presents and got us to open every toy pretty much straight away. Nanny K & Grandad L (Finley's Dads mum & dad) came to see him to share his special day with him. We enjoyed their company at our home whilst Finley showed them all his new toys.
We ended his Birthday with a little trip to the park with Nanny Kate & Grandad Lee, something Finley really enjoyed. Safe to say we didn't need to spend any money for Finley to enjoy himself.

The night of his birthday we went off to our local pub and enjoyed a lovely Birthday meal with my side of the family where Finley enjoyed a quick go on the rides, some amazing presents from his Uncle Jordan and unfortunately a bubble tipping incident (reason for the quirky clothes) but he enjoyed himself all the same!
Safe to say after Finley's busy and enjoyable day he slept very well that night. Myself, Finley and his Daddy would like to say a
massive
thank you to everyone who made his Birthday truly perfect, everyone who went out their way to wish him Happy Birthday and everyone in between.
Thank you for reading,
Ashleigh x
Facebook
//
Instagram
//
Twitter
//
Pinterest
//
Email