Oh gosh, i was dreading this one. My handbag is a combined bag with my 3 year old son so it's full of child entertaining things and wipes. To be quite honest I'm good when it comes to keeping my handbag clean, i tend to empty it out a few times a week as i hate all them coins and crumbs lurking at the bottom of it (even though after a day they tend to appear again, how?)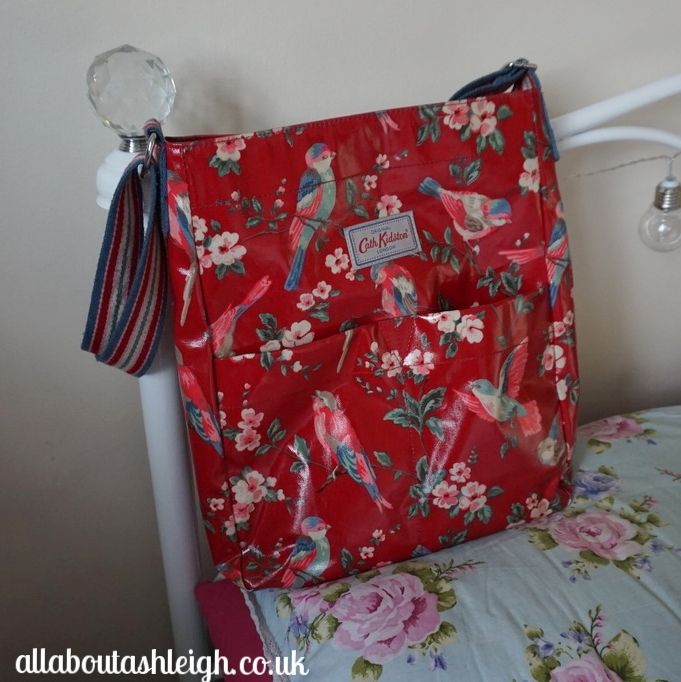 I used to carry around my son's Peppa Pig back pack around all the time when we went anywhere but he started nursery in January so i had to use that for when we was there. I got brought this beautiful Cath Kidston handbag last Christmas and it's perfect for myself and for when F with with me.
So in my handbag i didn't actually find much compared to usual as i only emptied it out at the weekend of rubbish so you're lucky!
So as you can see by my picture, there's the usual purse, nappy's, wipes and cream. I have also descorverd F has planted three cars in there since the weekend with out me knowing, which is pretty normal. Two small packets of sweets, perfect for bribing Finley to shhhhh when we are out and about (come one we've all done it) A hair bobble & Lip balm because you just don't know when you'll need them. Last but not least a few small coins lurking in the bottom of the bag, the ones where you're in a rush at the dounter of a shop with a toddler in tow and you throw them in there as quick as possible (the coins, not the toddler).
I'm quite surprised even after a few day's I've not gathered more in there, I would also normally have my phone & Diary in there too but they are out when I'm home.
Now i want you to go look in your handbags/changing bags and see what weird items you can find, tell me in the comments. The weirder the better!
Ashleigh x
Facebook
//
Instagram
//
Twitter
//
Pinterest
//
Email